Aspen passed away September 25th 2017, leaving a huge hole in my heart. I couldn't bare to delete her page so I moved it here and continued her tribute under Remembering... please go there to read more about our beautiful girl.
YBFGoldens Unseasonably Hot - - - "Aspen"
     Aspen is the daughter of Liberty ( JBG's YBFGoldens Queen 4 a Day ) and Bama (Can. Am. CH. Bravo HuntChase Alabama Slammer). She is one of ten born Sept. 6, 2004. She is a very clever and attentive little girl. She learns quickly and is very focused on the task at hand. She enjoys playing in the field or cuddling on your lap and goes anywhere with a smile on her face, ready for anything. She started her show career in Saskatoon May 5th, 2005 and had some fun competing against her brothers (YBFGoldens Storm Front - Opportunity, YBFGoldens Tsunami - Cody, YBFGoldens Toronado Warning - Phoenix)  She decided that the Show Ring was not for her, and thus ended her career.  She has a beautiful side gait, effortless movement, ample amount of bone, a level top line, correct dentition and dark pigmentation. She has dark almond shaped eyes that seem to smile when she does. She is a joy to have around. She has a mind of her own and is the only dog that I have ever trained that decided NOT to go into the ring, if you were there: in Moose Jaw or Regina,  you KNOW what I am talking about. We are working on that, and her impression that SHE trains ME, funny girl.  Either way, she is fun to watch.

     Aspen has been the mother of 3 beautiful litters. She is the mother to our girl Journey, and bears a remarkable resemblance to her Mom - Liberty and Grandma - Shelby... especially as she ages. She is a stunning girl who always gets compliments on her sweet personality and her eye catching good looks. She is constantly smiling which is very hard to resist. She is retired from having puppies and taking her new  job of being "in Charge"  very seriously. She is the new matriarch here and tries to keep the new crew in line. 

     Aspen recently added "cancer sniffing" to her list of abilities and found that I had Breast Cancer! She is a remarkable dog and I am very grateful that she & Journey found it.  She enjoys following me around room to room, taking the opportunity to nap with me when I need to, and has graduated to sleeping on the couch and being a bed hog. Well deserved I think!  :)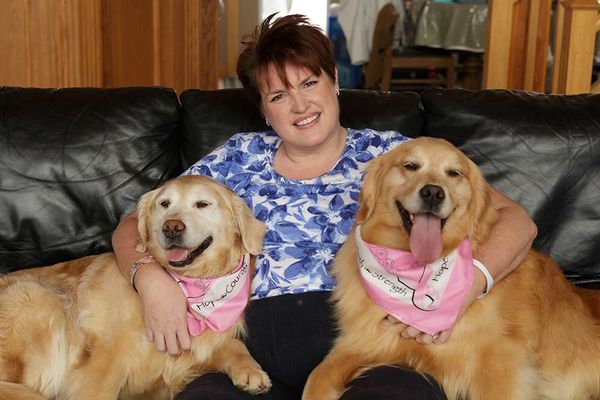 Have you hugged YOUR Golden today ?