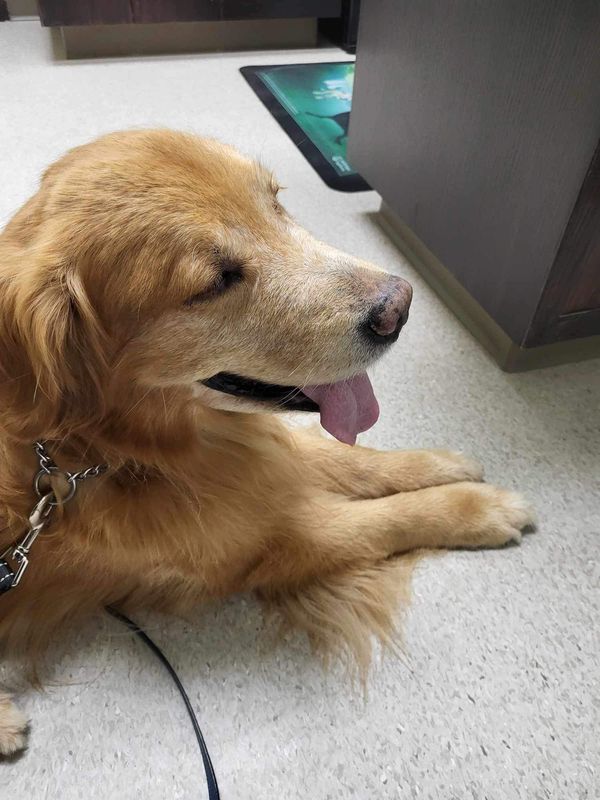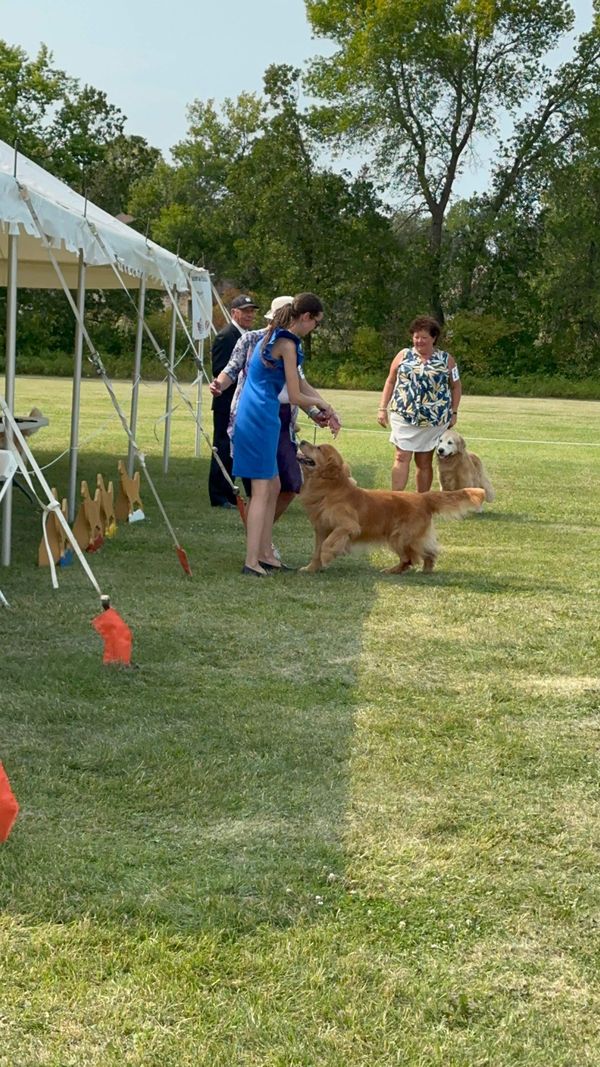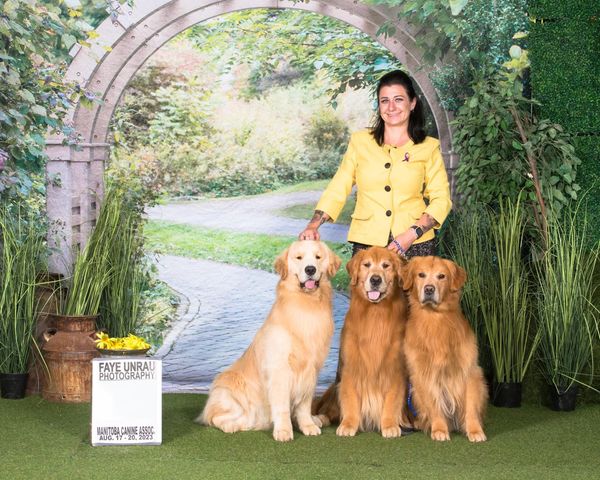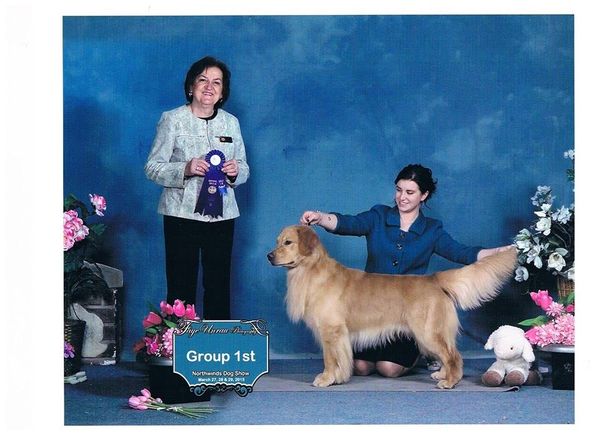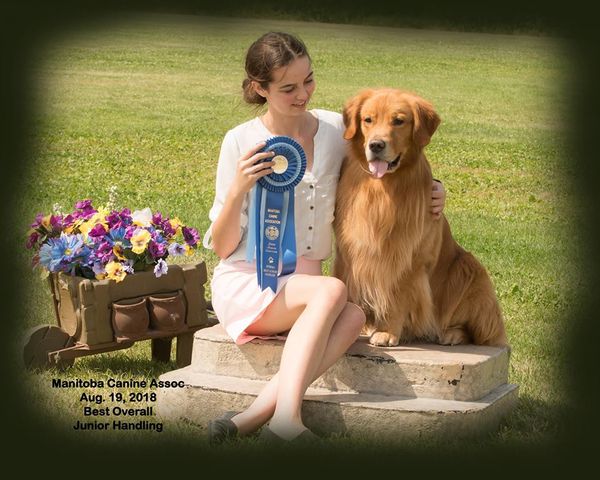 Introducing :
Can.Grand Champion YBFGoldens Open Arms
 **Baloo**
   Baloo was the first born of the "Journey Songs litter".  Baloo is the son of our beauty, Journey - Can Ch YBFGoldens Take a Chance on Me x Am CanGrand Ch JBG's Oh Henry CGN SDHF - "Henry"  When I first saw him, I knew he would be Judy's boy! He was a gorgeous, dark coloured boy that had lovely angles and a nice head...all things I love in a golden!  He must have known that he had big paws to fill because he started right away to exceed everyone's else's expectations of him. Judy thought she would TRY the show ring, Baloo excelled there too! She often says as long as he is having fun, she will continue. To date, he has finished his Championship within two weekends, then with a fabulous team, behind him, which we refer to as "Team Baloo" - Beth Chopey took him onto finish his Grand Championship in record time as well. We are not sure what the future holds for this lovely young dog, but are excited to see where he goes. Not bad, for a dog who was only there to try it out! We couldn't be prouder of him! Possibly an American Championship is in his future... watch and see! Baloo is taking a little break from the show ring right now.  He has been shown in the United States a couple times with a very competitive golden entry and held his own nicely. He only gets better and better with time.  I am excited to see what is in his future. 

   Baloo is a lovely boy, with smooth effortless movement, nicely put together, nice head piece, correct dentition, dark pigmentation, thick and full coat correct coat ( that is easy to maintain and dry ), gentle personality, and fun loving goofball attitude out of the ring. He has a gentle and calm attitude with children and other dogs and is showing a lot of patience with his new nephew, Arttu who recently joined their home. His goofy fun loving attitude is quickly exchanged for an "all business" one when he steps into the ring.   He weighs in at about 73 lbs.  He is a joy to be around and is always looking for someone to play with. I think he knows how handsome he is, because when he looks at you it is almost to say, I am cute, I can get away with anything!  He may have learned that trait from his Mom, Journey, she is also a master in that regard. Whether he is in the show ring or at the lake, Baloo is having fun and making friends.

   Baloo went to his first Canadian National in July 2015 with his Mom - Journey - Can Ch YBFGoldens Take a Chance on Me and his litter brother Can CH YBFGoldens Chain Reaction - Matrix... he was shown in the Specials ring and also in Bitch and Progeny and was also shown in the Stud dog and Get with his father Henry, a class that Henry won. What a thrill it was to see Mom and sons in the ring together! 

  Baloo has all of his OFA clearances and is available to Stud for approved Bitches only. Contact us for more information.

   To date, Baloo has sired one litter... of 12 puppies, 10 of which survived and are now known as the "Golden Nugget Casino Litter"  He is the proud papa to four boys :  B, Carter, Brewster, Gamble, and 6 girls : Nitro, Ellie, Chloe, Lola, Luna, and Willow. 

Baloo is owned and Loved by Judy H.