Introducing... our new Champion! "Can CH. YBFGoldens Dealer's Choice" - **CARTER**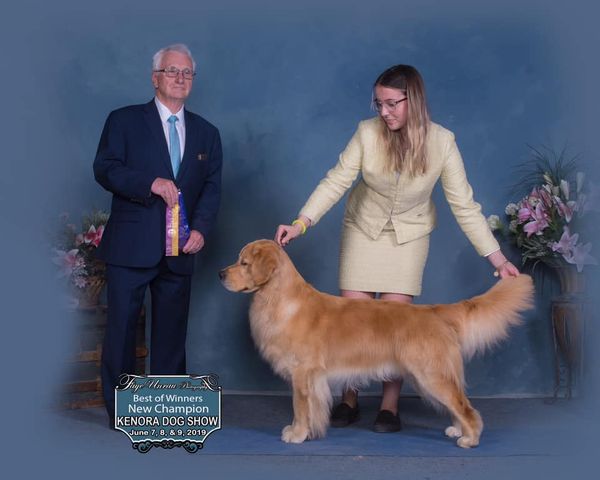 Introducing... "YBFGoldens Dealer's Choice"  -  **CARTER**  Carter was born into the Golden Nuggets Casino Litter from our **COOPER** - "Coltan YBF Schoolz out 4 Summer" and **BALOO** - "Can Grand Champion YBFGoldens Open Arms" owned and loved by Judy Holroyd. This was Baloo's first litter and we are very proud of what he has thrown in this litter.

     Ann Schwartz, renowned American judge had this to say about Carter: Nice head, Good bone, Balanced Front and Rear Angles, Short Loin, Croup a little short, Nice Rear from the back. 

     Carter is owned and loved by Lauren and her family. You may see him strutting his stuff in the show ring starting in February 2017. Carter has collected a few points towards his Championship, and will be finishing that off next year. Whether in the show ring, hanging out at home, or on trips out to the cottage, Carter has fun where ever he goes. He is a very laid back young man, and a true beauty to behold.  We are very excited to watch him mature, and show you what he is all about. We can't wait to see what this young boy can accomplish with his best pal, Lauren.