Can Ch YBFGoldens Take a Chance on Me - *JOURNEY*
   Journey is pictured with expert professional handler Shannon Scheer. They are pictured winning Best of Winners and Winners Bitch at the GRCC Regional Specialty MCA dog show, August 2010.
   Journey is a stunning bitch that carries substantial bone, dark pigmentation, level top-line, and she has substantial beautiful coat. She has correct dentition, dark eyes, is very athletic, and has a gentle and clever personality. She has a funny sense of humour and does antics that often amuse, sometimes not ...but she is full of personality and loves everyone. She enjoys life to the fullest, whether it is chewing on a bone, going for a walk, swimming, running in the hills, sitting on the couch or showing off in the Show Ring.  She has always had the 'look at me" attitude since she was very little and to be honest, she never disappoints.  She is always into something, doing something or starting something.  She is a confident and lovely bitch who I feel privileged to share my life with. I was going to say own, but, I think she truly OWNS me. Once you meet her, I am sure she will have the same effect on you.
   Journey was bred to 'Henry' - "BISS MBIS Am Can Grand Champion JBG'S Oh Henry SDHF CGN" in 2012 and had a lovely litter of puppies. You may see some of them in the ring in 2014 and 2015. 
   Journey was the first of our crew to be able to detect cancer, she found that I had Breast Cancer (and along with Aspen) kept 'telling me" until I figured out what they were saying. I am forever grateful that Journey and her Mom Aspen saved my life. I have finished most of the cancer treatments now. She has been a faithful companion who takes her job of taking care of me very seriously... and her job of cuddling on the bed just as seriously :) 
   Watch for her return to the show ring at the Canadian National in Calgary July 31st 2015 with her sons, Baloo and Matrix.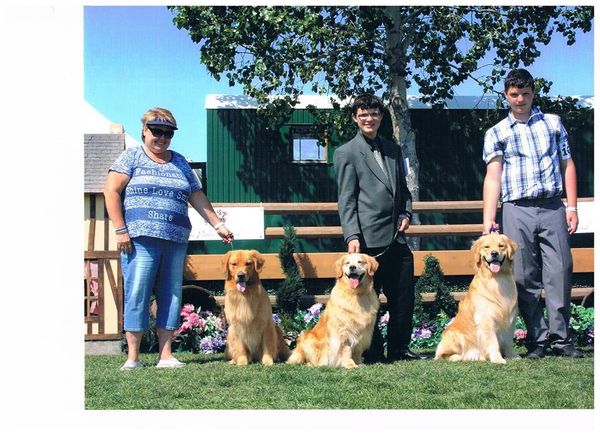 Journey photos - Click to enlarge the image below
 Have you hugged YOUR Golden today ?